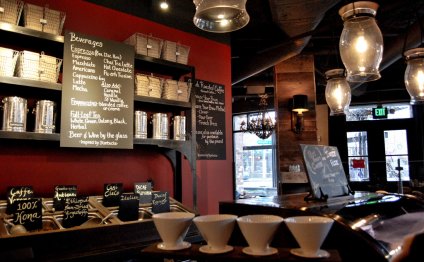 Roy Street Coffee and Tea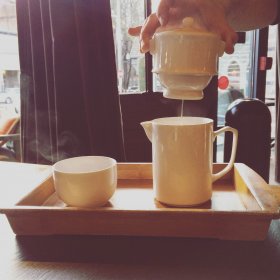 Posted by dcohen to | 09:59:41
If you've never had tea in one of our teapots at Roy Street, today is a great day to try it! Designed by our friend Jason Chen at Smacha Tea from Bellevue, these teapots are incredibly easy to use and steep tea perfectly without having to worry about straining out the leaves. We simply put in the required amount of tea in the top part of the pot and fill it with hot water and a fine mesh filter regulates the water flow to get the tea to steep for the right amount of time, while the steeped tea drips into the bottom part of the pot, as seen below.
Here I'm making a pot of our Queen Victoria tea, a blend of Yunnan Black and Keemun teas. The Yunnan Black Tea has a goldish color to the tea leaves and has a nice robust, malty flavor reminiscent of your favorite English Breakfast tea. The Keemun tea is less intense, and has a very floral taste. Together they create a harmonious balance of flavors that make it my favorite tea on our menu. All of our teas and our autobrewer pot are available for purchase for home as well if you want to take them back with you! If you're a tea lover, I highly recommend giving them a try. Our tea list is below for reference:
posted by dcohen to | 18:31:41
A new drink just hit our menu today! The "Chocolate Stout Espresso Con Panna" is a boozy riff on an old Italian favorite. This version has two shots of our Veranda espresso pulled over a chocolate stout whipped cream and into a chilled glass. The whipped cream is made of vanilla, chocolate, a milk stout beer, and heavy whipping cream.
The original Espresso Con Panna is simply espresso with a dollop of whipped cream. This is a drink you can find at many cafés and at your local Starbucks. The inspiration came to our coffee trainer Ryan McDonnell to revive an old favorite, and he decided to go the 21+ route for an evening dessert. The artwork is by Amanda Anderson, one of our favorite baristas, who is studying drawing and painting at the Gage Academy of Art. Like all of our specialties, this drink is only available seasonally. Come get it before it's gone!
posted by dcohen to | 11:57:18
Happy New Year !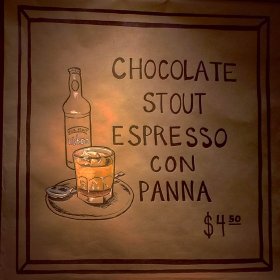 Lots happening at the store since the first of the year.
We saw another fresh-roasted at the Starbucks Reserve Roastery limited whole bean offering-a Guatemalan coffee that was tasted by Ryan and Lindsey over on Pike. The team loved it, our guests gave it a very positive response and we brewed through it in just a few days. More to come as the Roastery team is excited about providing offerings to our team and guests 'up the hill'.
Regarding the image above…..We are just days away from seeing our old cold-case removed and the installation of a new whole bean scoop area.
Sarah from joyful clay has just finished a new collection of Roy Street signature ceramics! They will be in the store in time for Valentines Day.
posted by dcohen to | 18:26:08
We're all about spreading a little holiday cheer at Roy, and we sat down a few weeks ago to think of new ways to help put all of you into the holiday spirit.
We came up with quite a few ideas—some better than others. We considered giving away a free car with every beverage, but the idea was turned down due to budget constraints. Another idea was adding peppermint to everything, but as it turns out, peppermint-tomato soup is not as good as you might think (in fact, it's probably just as bad as you might think).
However, we did come up with a few good ways to help you make your next Roy Street visit a little bit more festive…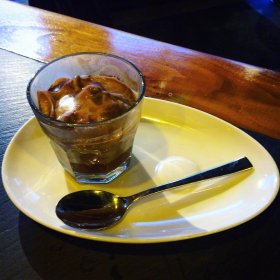 Peppermint Lattes and Mochas
Peppermint syrup is back, and we'd love to add it to any beverage—just ask your barista and we'll hook you up. Don't worry, we're keeping it out of the soup.
Molasses Clove Latte
Okay, this one is key. It's key because a) it's freaking amazing and b) you can't get it anywhere else. Our specialty syrup guru, Ryan McDonnell developed the recipe for our one-of-a-kind syrup that literally turns your latte into a molasses cookie in liquid form. The syrup ingredients include molasses clove, Valencia orange peel, fresh ginger, vanilla extract, and Speculoos cookie butter.
I should mention that these brilliant ideas don't just appear—apparently, as a kid, Ryan often read a book called The Great Molasses Flood and developed a fascination with molasses. You might stay it stuck. Special thanks goes out to Ryan's dad for reading him such a terrifying children's story, and for serving Ryan pancakes with molasses instead of maple syrup. (Hmmm…suddenly my own childhood is somehow not up to par…)
Anyway, it's so amazing. Just trust me, you want one.
Live Music
Okay, so our holiday music playlist isn't performed live. And our live music may or may not be holiday-related. But ignore the nuances and just get excited for our newest recurring Roy event: live music nights. They're going to be happening 1-2 times each month, each time featuring a new local artist. Check out the in-store calendar to find out when to catch the next performance.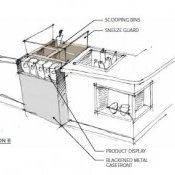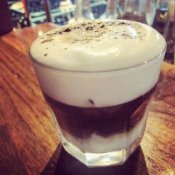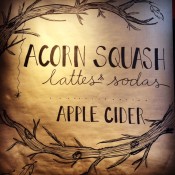 Source: www.roystreetcoffee.com
RELATED VIDEO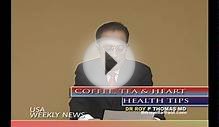 COFFEE OR TEA. WHICH IS SAFER AND HEALTHY?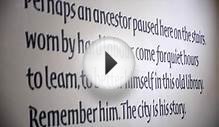 Coffee and Tea Brewers Cup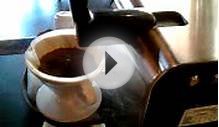 Clover Precision Pour Over at Roy Street Coffee and Tea ...
Share this Post
Related posts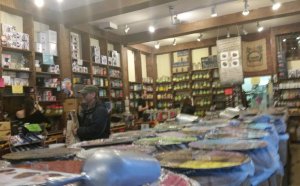 DECEMBER 10, 2023
In 1975, The Coffee & Tea Exchange opened its doors in a small storefront in East Lakeview. Back then Steve, our…
Read More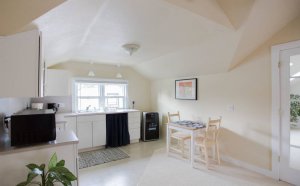 DECEMBER 10, 2023
When making iced tea, what measurements of tea should I use? Use the suggested amount of tea noted below: 3 Quarts - 5-7…
Read More