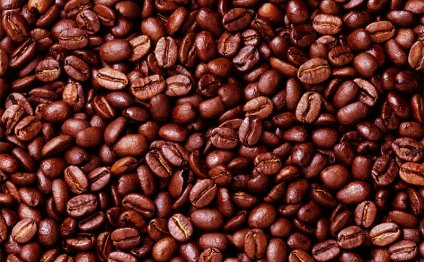 Costa coffee beans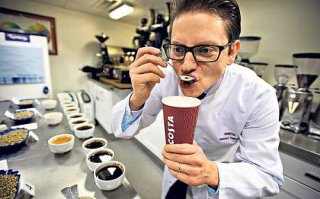 Costa keeps about five days worth of production at the roastery, and will get through that in just over a week. Beans arrive from Brazil, Colombia, Ethiopia and Vietnam. They're all mixed together to give Costa its mocha Italia blend, which is used in all its coffee.
Each batch will go through a vigorous testing procedure.
Raw beans will be taken and Pelliccia and his team check their moisture content, look for visible defects, do a sifting test to make sure the size of the beans are even, and then taste the product – the most crucial stage of the process.
Pelliccia will brew the samples and sniff and swill each cup, repeating the process anything up to seven times for each blend to make sure they are consistent. He'll taste up to 100 cups a day, and avoids eating curry within two days of tasting sessions in case the spices dull his sensitivity.
Pelliccia is honed to recognise the distinctive taste of coffee grown in different parts of the world. "Ethiopian coffee is well known for having a citrus element to it. Colombian is very complex, quite high in acidity with a nutty undertone. Brazilian coffee is also nutty and quite heavy. Vietnamese coffee is very distinctive – made from a hardier Robusta bean that has an earthy taste, " he says.
Once approved, the beans are then roasted and mixed together in the factory. Some 8, 000 tonnes are roasted at the plant each year to be shipped across the world, excluding India, where coffee is locally sourced and grown.
Pelliccia, who studied mechanical engineering at university, has a long association with Costa. His parents had worked with Sergio Costa, cofounder of the coffee chain, since the early 1980s. Pelliccia joined the business in the 1990s as a barista working at the Gatwick airport branch on Saturdays, and went full-time after graduating.
When Whitbread, the FTSE 100 leisure giant bought Costa in the mid-1990s, he moved to the factory side of the business as assistant production manager, before later moving into tasting.
He says the idea to insure his tongue in 2009 came about because Whitbread wanted to remove a myth going around that all coffee tastes the same. The company had commissioned independent research and said that in a blind taste test of 330 consumers, seven out of 10 preferred Costa's cappuccino over other high-street brands including Starbucks and Café Nero.
"So they thought we need to safeguard ourselves and protect our blend. It means that if I lose my ability to taste, then Lloyds of London, our insurer, will pay out £10m. But that would go to the company though – not to me, " he adds.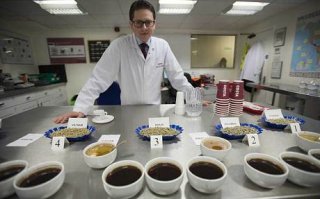 Costa Coffee was founded in London in 1971 by brothers Sergio and Bruno Costa, who wanted to bring a flavour of Italy to London. After achieving success, the business was acquired by Whitbread in 1995, and since then the brand has grown rapidly across the UK and overseas.
It is now the largest coffee shop chain in the UK. There are 1, 882 stores across Britain, expected to grow to 2, 200 by 2018. There are also 4, 000 Costa Express machines, found in UK garages, offices and supermarkets for motorists wanting a quick cup of coffee on the go. In total, the company has 3, 006 stores in 31 countries.
In the 39 weeks to the end of November, sales at Costa's branches rose almost 16pc to pass £1bn. Franchises made up £398.1m of this total, while international sales rose 10.7pc to £213.5m.
The firm doesn't deviate from its house blend, which has remained largely unchanged since being developed by the Costa brothers, but its new speciality drink, the sticky toffee latte, is selling more than 100, 000 a week in the UK over the festive season.
"Coffee is definitely becoming increasingly popular. And that's partly because of the experience that comes with it – people like to sit in a nice environment, where they can take some time out to relax. Or people will pick something up on the go – demand is steady throughout the day. It's popular early in the morning, then after the school run, over lunch, and the commute back home, " Pelliccia says.
He adds that café lattes and cappuccinos are the most popular choices, but that people are also increasingly choosing to order a flat white, a creamy coffee that has three shots of short-extract coffee.
Pelliccia says he was addicted to coffee from a young age and despite his job, it hasn't put him off enjoying cups for pleasure. He'll drink up to five espressos a day.
Offering tips for people to make the perfect cup at home, Pelliccia says a common mistake that people make is to leave the coffee to brew for too long.
"The quicker you drink coffee after brewing, you'll be able to extract the sweeter, more desirable notes, " he says. "People often allow coffee to sit and dwell in water for too long. Then you'll start attracting some more undesirable tastes that are quite bitter."
science =direct
hair salon grove ok
fashion styles of the 90s
today trend
mars related names
astrology signs dates
what is the science method
green hills coffee shops
trend data
lifestyle christianity shirt
coffee lot
process of scientific problem solving
latest hairstyles for men
haircut place
hip astronomy
for you fashion
lifestyles skyn original condoms reviews
sale lifestyle
europe street style summer
astronomy boy
astronomy zone
sheer creations
game in science
blue haircut
stars background
pc astronomy
coffee table book
lifestyle definition pdf
Source: www.telegraph.co.uk
RELATED VIDEO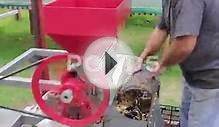 Separating Coffee Beans From Pulp Costa. Stock Video ...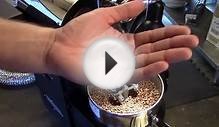 Orion Coffee Roasting Beans from Costa Rica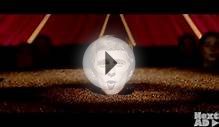 Kiss Flash mob in coffee bean sea: weird Costa ad
Share this Post
Related posts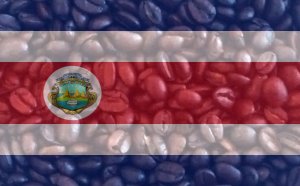 NOVEMBER 30, 2023
In Costa Rica, coffee is more than just a drink, it's a way of life. Coffee farming is an important part of our culture and…
Read More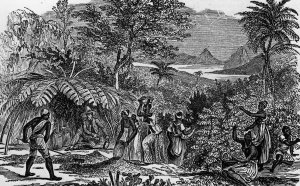 NOVEMBER 30, 2023
According to a coffee history legend, an Arabian shepherd named Kaldi found his goats dancing joyously around a dark green…
Read More