Costa Coffee mission statement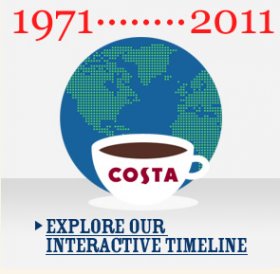 Our mission has always been to save the world from mediocre coffee. Back in 1971 most people thought this was a noble yet hopelessly unachievable task. But every cup of our Mocha Italia blend created since then has helped us in our quest. Now we're the nation's favourite coffee shop, and yet another step closer to a world where bland, average coffee is consigned to history. Want to find out more? How could you resist?
A drop of history in every cup
On a grey day in London in 1971, an incredible thing happened: a cup of Costa coffee was poured for the very first time. Its creators, the brothers Sergio and Bruno Costa, first sold their coffee to a handful of local caterers. Then to some delicatessens. A few years later, they opened their first coffee shop.
Today Costa is the largest and fastest growing coffee shop chain in the UK. In 1999 Costa opened the first International store at The Aviation Club in Dubai, UAE. 12 years later the Costa brand continues to grow with 85 stores operating in the Emirates.
So while a lot may have changed since that first cup was savoured, our coffee certainly hasn't. We still slow-roast our beans in exactly the same way, and even in the same roasters, as Sergio did on that momentous morning 40 years ago. And as long as coffee lovers like it that way, we'll continue to do so.
From Bean to Cup - The Journey
At Costa we control the whole coffee-making process from start to finish. From the sourcing, right through to storing, blending, roasting, grinding and pouring, no-one else is involved. Obsessive? Maybe, but we think the perfectly crafted end results are more than worth it. Our customers seem to agree.
Our Baristas
Every Costa barista is unique in what they do.
Spot one bean on their shirt collar and you know they've made the grade. Two beans and they are a barista maestro - the very best. Not only are they experts in making the perfect coffee with speed and precision time and time again, but each brings their own flair and creativity to every cup they make.
We wouldn't have it any other way, because we believe that only the very best coffee is made from the heart.
The Best of the Best
Once a year, we look for the very finest talent from our 17, 000 baristas worldwide, to compete at the Barista of the Year competition. The contenders are judged on a number of criteria, including technical skill, presentation and personality. But critically, they're also judged on the passion they show for their craft - an essential ingredient of every cup of Costa coffee.
The eventual winner is hailed as the Champion of Champions. Why do we invest in this competition? To celebrate the art of coffee making. To recognise and reward the incredible work of our people. And to maintain the standards of excellence that we live by. Because we believe that coffee is more than just a drink; it's a way of life.
Source: www.costacoffee.ae
RELATED VIDEO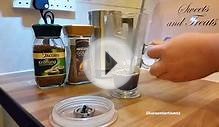 How to Make Costa Coffee Starbucks and Caffe Nero Style ...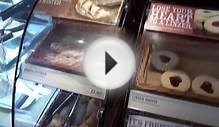 iSPI TV - Costa Coffee Corporate Video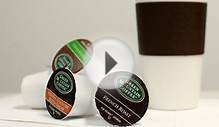 Green Mountain Coffee shares hit 52-week low
Share this Post
Related posts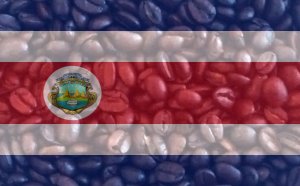 SEPTEMBER 30, 2023
In Costa Rica, coffee is more than just a drink, it's a way of life. Coffee farming is an important part of our culture and…
Read More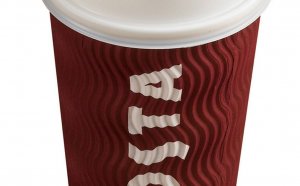 SEPTEMBER 30, 2023
Whitbread is expected to open nearly 150 new coffee shops in the UK this financial year, along with 40 Premier Inn budget…
Read More